How to Visit Dubai after COVID
Saturday, December 19, 2020 | Admin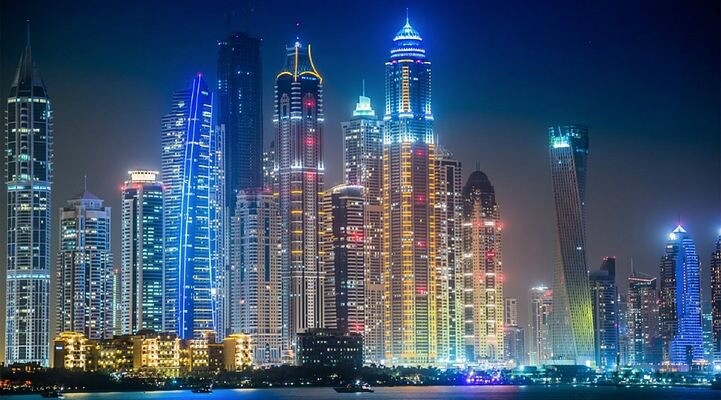 Dubai World's best tourist destination. Dubai is an amazing place. And here you will find something interesting for every age group. Whether you go with your life partner or friends or even family. Dubai will remain an ideal tourist destination.
Now if you want to travel to Dubai after this COVID .In this Article, we will tell you about the ways to go to Dubai. What are the required documents? How to get the visa? Which are the flights? What are the best hotels and places to visit there? Although it's a bit difficult to go to Dubai during this pandemic. As there are some travel rules that you have to follow. if someone wants to go to Dubai now then they will try to find the easiest way to reach there. It's possible that you have to go through a lot of rules and regulations.
How to get the visa?
First of all, we will tell you about the visa structure. How many types of visa(s) are there in Dubai and how to get it? Then we will tell you about the price and booking of the flight tickets.
Let's start with Dubai's visa. In order to go to Dubai, every Indian needs to get a visa. They need a tourist visa. Although if you are Indian and you have a passport with a tourist visa of USA then you can get a visa on arrival. Visa on arrival means you can fly to Dubai without getting a visa and at Dubai airport, you will get the visa on arrival. But if you don't have a travel visa of the USA or you don't have a green card then you have to get your Dubai visa from India only.
Visa Types
There are 4 types of tourist visas in Dubai. Firstly there is a '96-hours transit visa. 'Which means that you have to go somewhere from Dubai and you want to get out of the airport then you should have a 96-hours transit visa.
Another one is a 14-days tourist visa. In this you will get a visa for 14 days you can travel there for 14 days after which you have to come back.
The third is the 30 days tourist visa and another one is a 90 days tourist visa. So depending on your travel requirements you can get 14 days, 30 days, or 90 days tourist visa. The most popular one is 30 days visa and the maximum people opt for it. And there's not much difference in the prices of 14 days and 30 days visa.
I suggest you get the 30 days to travel visa if going to Dubai.
How to apply for Dubai visa?
Now how to apply for 30 days travel visa. I would suggest that if you will try for a Dubai visa on your own then you can face a lot of difficulties that's why approaching such agents to get your visa.
For more details contact us. Or call us @+91-9711738808
And let me tell you one more thing that an express service is also available for Dubai visa within 2 days. Otherwise, it takes 4-5 days to get a Dubai visa.
How to book flights for Dubai?
We will tell you a few more points which you must know if you are traveling internationally right now. And most importantly, what you should do to safeguard yourself from COVID 19.So so let's jump to our next point.How to book flights for Dubai? What are the rates of flights and which all flights are available as of now? Flights to Dubai aren't very much expensive if compared to other countries.
To book any international flight you can visit our website or call us @+91-9711738808
It will take 3hrs and 45 mins for you to reach Dubai if you go by direct flight.
Move to the next point. Which is of hotel booking? There is every type of hotel in Dubai. Those hotels surpass one another in terms of beauty and luxury. And you can get a hotel according to your budget. Whether it is a 5-star hotel, beach resort, or even 3 stars or 4 stars, everything is available as per your budget.
Dubai is a very big city and its surrounds by tourist attractions. For instance, Burj Khalifa, Dubai mall, Dubai frame, Dubai gold souk market, palm islands, amusement parks and even many water parks. So if you want to enjoy the beauty of nature in Dubai like beach resorts then you should book a hotel in the palm islands. But if you want your hotel to be close to the airport, should be within the budget, shouldn't be expensive and quality is also not compromised then you can book a hotel near the Greek river where we booked a hotel in Dera, Dubai. If you want to take a hotel in the city center and you want lots of luxuries and your hotel should be near to all the places and where all the types of hotels are available either 2 stars, 3 stars, or 5 star then you should book a hotel in the city center.
How to book a hotel room? The same process goes down by booking a hotel room. You can visit our website or call us @+91-9711738808
Documents required during a COVID 19
So after visa, flight, and hotel booking it's time to know about the documents required to enter Dubai. The 4th document is a very important one, which is travel insurance. And at this time of the COVID pandemic, this travel insurance is too necessary. I would suggest you opt for the insurance which covers COVID 19.
The fifth document required is a COVID 19 test report. And this report has to be negative. Now, where to get this report from? And what are the rules and regulations? Firstly this test has to be conducted for you by ICMR approved labs only. Only the test report of ICMR labs is valid. So check for the nearest ICMR to get your test done. For that, the best way according to me is the Arogya Setu app. Where to find about ICMR approved labs nearby from the Arogya Setu app.
When you will open your Arogya Setu app then this would be the home screen. When you will scroll down then you will find this 'laboratory with COVID 19 testing facilities 'Click on it and you will reach the page where you will get 2 types of lab some is govt. approved labs and other is private labs. I would suggest you go for private labs as govt. labs take a lot of time to provide reports and I am not very much impressed by the facilities as well. So you can find all the private labs nearby you. Just click on it, and it will shortlist those private labs which are nearby you. Right now, it is showing labs near to my location. So when you will try it with your location on the Arogya Setu app then it will show labs near you. Guys this app must also be there on your phone when boarding the flight. Because without the Arogya Setu app you won't be allowed to board. And that's how you book flights, hotels, and visa for Dubai.